The countdown to Rio 2016 is in the final stages, with the Opening Ceremony just a few days away. The Games represent a great creative learning opportunity for kids – and, of course, an ideal window through which to find out more not just about sport and exercise, but about qualities such as effort and determination.
[easy-tweet tweet="How to make the most of the #creativelearning opportunities #Rio2016 represents #Olympics http://spkhb.co/2awcw4j"]
The website http://www.activityvillage.co.uk has a vast and varied collection of different Olympic-themed activities and resources, including printables, puzzles, recipes and crafts. The site even has a step-by-step guide to holding your own at-home version of the Olympic Games.
Read on for some inspiring ideas about everything from flags and patriotic crafts, to a kid-friendly overview of Brazil.
Original article here: http://www.activityvillage.co.uk/olympic-games
---
The Olympic Games, both summer and winter, are a wonderful opportunity to get the kids excited about sport, friendly competition, national pride and counting medals! And we've not long to wait now, with the next Summer Olympics starting on Friday 5th August and running through to Sunday 21st August, in Brazil. It will be the Games of the XXXI Olympiad. We can't wait!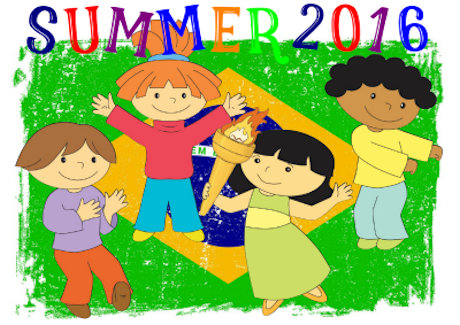 "The most important thing in the Olympic Games is not to win but to take part, just as the most important thing in life is not the triumph, but the struggle. The essential thing is not to have conquered, but to have fought well."
Olympic Creed 
Our Olympic Activities
The Olympic Sports
We've got all sorts of activities for each of the Olympic sports, including colouring pages, worksheets and printables. Explore the individual sports here:
Canoe
Pentathlon
Sailing
Water Polo
Find Out About Brazil

Rio de Janeiro, in Brazil, plays host to the Summer Olympics in 2016.
Brazil for Kids
All About The Olympic Games
What do your children want to know about the Olympic Games, Ancient and Modern? You'll find lots of information for children here in a question and answer format, including some printable worksheets which they can use to make the most of what they discover.
All About The Olympic Games
Related Ideas
The Olympics can be a great time to study the world! Why not:
Explore our Flags Theme for flag printables, colouring pages, jigsaws, notebooking pages and mini booklets on all the countries taking part in the Olympics
Try out some of our Patriotic Crafts with the kids
"Swifter, Higher, Stronger"
Official Olympic Motto